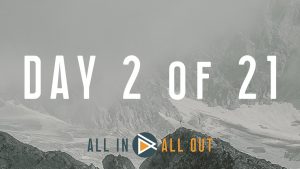 Pray for your family members who don't know Jesus.
Maybe you're the first person in your family who decided to follow Jesus. Or maybe you come from a family who has been following Jesus for many generations. Whatever your story is, God has given you a unique opportunity to tell your family about what God has done in your life. Spend some time thinking about your family today, praying that God would give them a new life with Him!
2 Corinthians 5:14-20
"For Christ's love compels us, because we are convinced that one died for all, and therefore all died. And he died for all, that those who live should no longer live for themselves but for him who died for them and was raised again. So from now on we regard no one from a worldly point of view. Though we once regarded Christ in this way, we do so no longer.
Therefore, if anyone is in Christ, he is a new creation; the old has gone, the new has come! All this is from God, who reconciled us to himself through Christ and gave us the ministry of reconciliation: that God was reconciling the world to himself in Christ, not counting men's sins against them. And he has committed to us the message of reconciliation.We are therefore Christ's ambassadors, as though God were making his appeal through us. We implore you on Christ's behalf: Be reconciled to God."
Additional Reading:
Luke 16: 19-31